Mr. Swanson
This user hasn't shared any profile information
Posts by Mr. Swanson
0
Wow what a cold week outside! Hope you all take advantage of our warm gym and enjoy some basketball this week. There are games every evening beginning Tuesday through until the end of senior girls tournament on Saturday night.
0
We have had a great start to the school year and are now ready to relax and recharge over the holidays.  We wish you the very best over the holiday season, with much joy, laughter, good food and time with your family! See you in 2017!

0
On Sunday, December 11 Peacock will host it's 6th annual winter charity "polar" run in support of the Terry Fox Foundation. What started as a small group of runners six years ago has evolved into a yearly tradition that is strongly supported by staff, students, and the community. For the past five years the run has raised in excess of $5,000 per year which all is donated towards cancer research.  On behalf of the staff and students of Peacock we want to thank everyone who has participated in this important event. We hope to see you on December 11th. Registrations are accepted on site and the run begins at 12:00pm in the Wakamow Valley at the speed skating oval.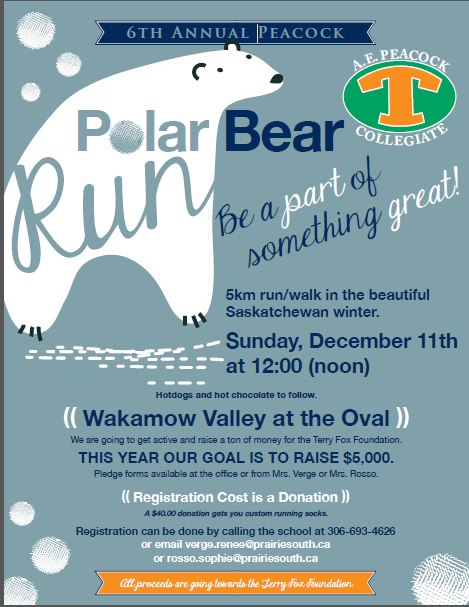 0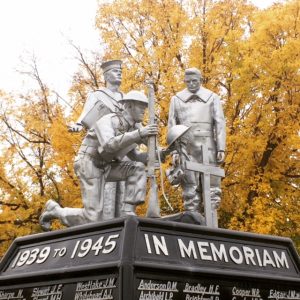 On Thursday, November 10th we hosted our annual Remembrance Service for the students, staff, and parents. It is an important occasion for our school as we stop everything we are doing to take time to reflect, remember, and honour those who have served, or are currently serving in the Armed Forces. Each year during my introductory comments I highlight one fallen former Peacock student who is remembered on the war memorial on our property. This year I spoke about a graduate from 1941 who served in second World War.  Below is a copy of my speech comments.
Lewis Percival Archibald started attending Peacock on August 27, 1936. He began grade 9 after completing his grade 8 education at Victoria school. Lewis' father worked for the CPR as a conductor and Lewis was the oldest of four siblings.
 We know from our archive student records that Lewis had a talent and deep interest in electronics, drafting, and mechanics. He marks indicated he did well for all four years he attended Peacock. Like many of the students in that era he lived near the school in fact…. Lewis lived right near the school on 916 Alder Avenue. He finished grade 12 in early 1941 and soon after entered the air force to help support the Canadian War efforts overseas.  Lewis became part of 426 Squadron in the Royal Canadian Air Force where he became a pilot officer on a Lancaster bomber. Given Lewis' aptitude in electronics, and precision drafting he was undoubtedly a fine pilot officer. On the night of December 16th, 1943, at the age of 21, Lewis' bomber DS846 was shot down over Germany while making a bombing run into Berlin.  Lewis grave is found in the Hanover War Cemetery in Germany.  His name proudly listed on the War Memorial on our property – and I encourage you to read it today as you walk past.  The war memorial, and this service, are in place to ensure we take the time to "remember" and reflect on the men and women, like Lewis Archibald, who made the ultimate sacrifice for our freedom.
We dedicate our service today to all current and former armed forces members including Lewis Percival Archibald.
We remember…
0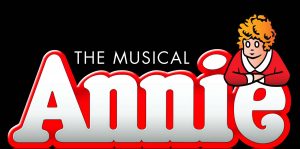 The first week of November is always a special week at Peacock. It is a transition week where we are approaching report cards, finalizing some extracurricular fall programs, and celebrating academic achievements.  We look forward to seeing many of our families in the building on Thursday at our annual undergraduate academic awards. The awards are a very important event as it is one of the few times that we stop all school activities to celebrate the learning our students. Several hundred students will be recognized for achievement in academics, arts, and attendance. Congratulations on your well-deserved awards!
Also exactly one month from today will be opening night of the musical production of Annie. This is a wonderfully entertaining and heartwarming musical that entertains all ages. Tickets are on sale now online at www.showtix4u.com or you can purchase through the main office.
Finally a reminder that report cards will be ready for students on Wednesday, November 9 during advisory time. This November's  teacher-parent-student conferences take place on Tuesday, November 15 and Wednesday, November 16 from 5:30pm to 8:30pm each night.
Have a wonderful week and good luck to the volleyball and football teams this week in the city playoffs!
Mr. Swanson's RSS Feed