Mr. Swanson
This user hasn't shared any profile information
Posts by Mr. Swanson
0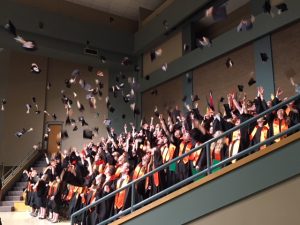 Congratulations to the Class of 2018! On behalf of the staff of Peacock Collegiate we wish you all the best in the future. To all new and returning students we hope you have a wonderful summer holiday! See you on September 4.
0
It certainly has been a long time since I updated my blog. My apologies if you were one of the few that were stopped to read or watch my video blog!  I do intend to regularly update throughout the remaining months of this school year!
0
2017-2018 School Year Welcome!
Welcome back to school! I sincerely hope you all had a relaxing summer break. Well here we are and the 2017-2018 school year is about to begin. It is the beginning of another fresh school year full of promise, opportunities, and future memories.  I hope that your previous memories have been positive and that you are looking forward to making new ones. To all parents and students if there is anything I can do to assist you during your time at Peacock Collegiate do not hesitate to contact me directly. My phone number is 306-693-4626 and my email is swanson.dustin@prairiesouth.ca.  There are many ways to stay connected to Peacock through our web site (www.aepeacock.com), Remind, twitter (https://twitter.com/AE_Peacock) , facebook, and Instagram (https://www.instagram.com/aepeacockcollegiate/). There is much to know and be involved in over the school year.
For this year starting blog I want to focus on the importance of regular school attendance and of getting involved in school extracurricular activities. Research and experience make it clear that both are critical to success in high school.
There is a well known phrase in the education world known as "Attendance Matters". It means that each and every school day is an important one and that we want students here each and every day. We know that students will get ill or have appointments or incidents which do affect their ability to attend every single day. However, as a general expectation we think that 95%+ attendance is a reasonable goal for all students. Of greater concern sometimes are the absences that can be avoided by some planning and fortitude. We believe that teachers are the simply the best at helping our students to learn and are available to help student catch up when absent. However, the discussion, presentations, activities, and overall learning that happens in a classroom with peers can't be replicated through a homework sheet. I'm asking that should parents have a choice of keeping your child at school as opposed to pulling them out of class that you opt to keep them at school. Simply put, attendance matters.
We have a very hard working staff and community volunteer base that volunteer thousands of hours so that students can have extracurricular activities. I'm a firm believer that some of the most important life lessons happen in the gym, on a stage, or the sports field and strongly encourage all students to get involved. We have a wide variety of sports, fine arts, and clubs available to students. During the first week of school there are sign-up sheets in the main office so we hope to see everyone down to sign up for at least one activity this year. For students who are returning don't forget that you are never too old to try something new! The Wayne Gretzky quote on my office wall is there as a reminder for us all that "you miss 100% of the shots you don't take".  Make sure that this is the school year you take your shot!
Thanks for reading my blog and I look forward to working with you all over the year ahead.
Sincerely,
Dustin Swanson
0
Congratulations to the class of 2017! To all students returning in the fall we hope you have a relaxing and enjoyable summer break.
0
A reminder that school is closed February 20 through February 24. Classes will resume on Monday, February 27. Have a great holiday week!
Mr. Swanson's RSS Feed